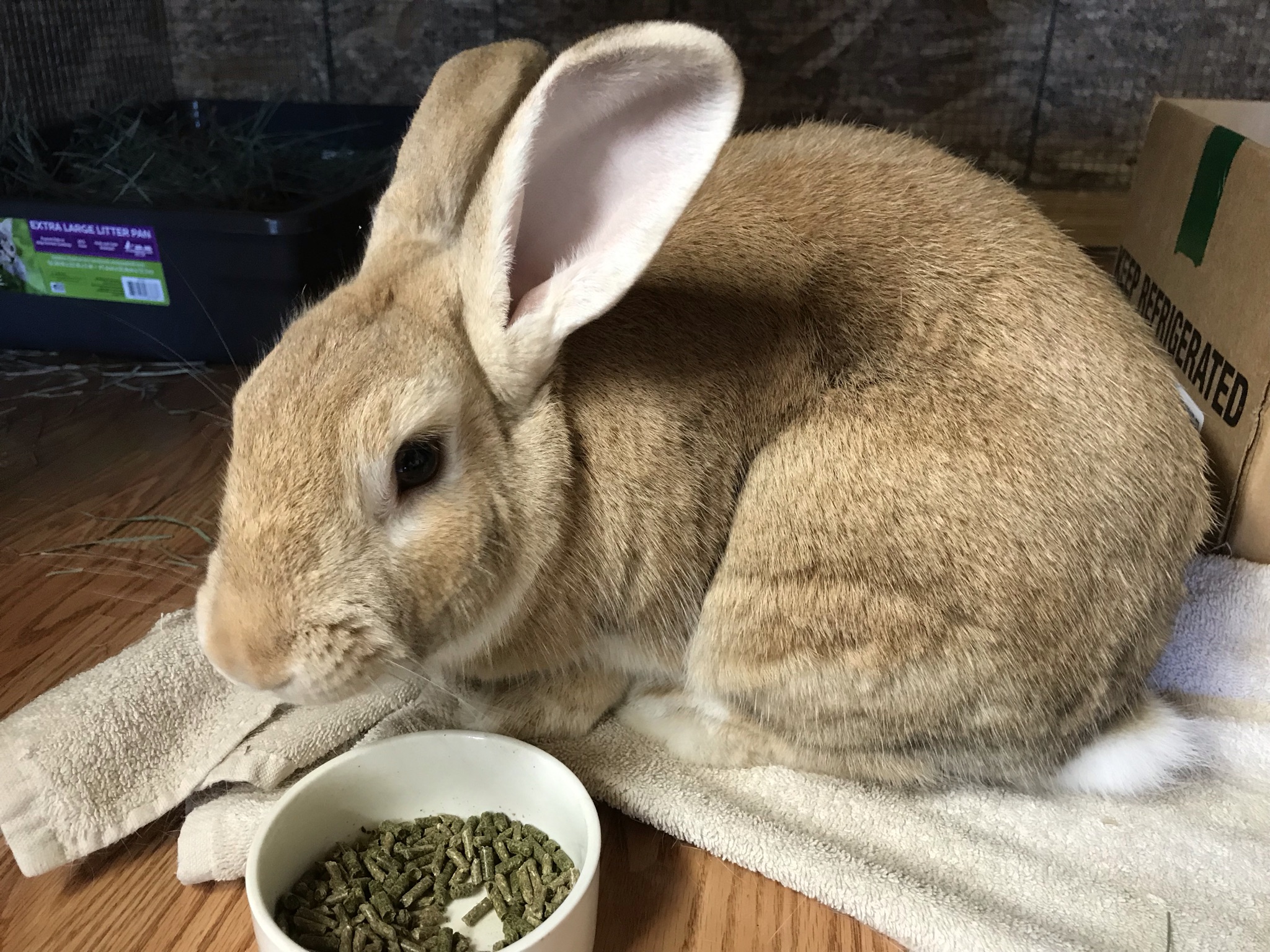 Peridot's adoption fee has been sponsored!
Male – Neutered – Vaccinated – Microchipped
2 years old
Flemish Giant Mix
Size: Medium/ Large (about 8 pounds)
Hello! My name is Peridot, or as my foster family calls me: Perry, Periscope, or Per-ee-yay if they're feeling fancy. They are always telling me how handsome I am, with my tawny coat, ivory belly, tall ears, and soulful brown eyes. I'm quite the catch, a real bachelor! But that's the thing: I'm probably a bachelor for life. I've been compared to George Clooney, but even he got married eventually, so I'm probably more of a "Leonardo DiCaprio".
I like the single life. I've been brought to a couple of foster homes to meet the nice lady bunnies who lived there, but I didn't fall in love. In fact, I was mostly annoyed and just wanted the whole house to myself.
Speaking of! My resumé as a house bunny is unsurpassed by other rabbits. I have impeccable litter box skills, love my toys, and will hop up on the couch for movie-time snuggles. I'm not a big chewer, either, as long as I have fun wooden toys to play with. In fact, I didn't even have a pen at my foster home, I had free roam of most of the house, I am that well-behaved!
I need some time to settle in and feel safe and comfortable, but once I do, expect assertive demands to be pet. You'll enjoy watching me do goofy leaps through the house before flopping on my side for a nap. It's hard work being this cute!
I'm not fond of other pets in the house, I've got a misdemeanor on my record for pushing the cat around in a previous foster home. (Okay, but haven't we ALL been mad at the cat at SOME point?!)
Ideally, I will find a quiet house with room to roam and no other pets or small children trying to grab for me. I would probably be good with older, respectful children who understand approaching me on my terms.
My foster mom says she'd be thrilled to answer any questions or talk to anyone interested in me. She thinks I'm pretty perfect, and is heartbroken to see me go. In fact, because she wants to make sure I find my perfect forever home, she is sponsoring my adoption fee! Now, who's ready for a big, handsome rabbit to fill your life with love and bunny joy?