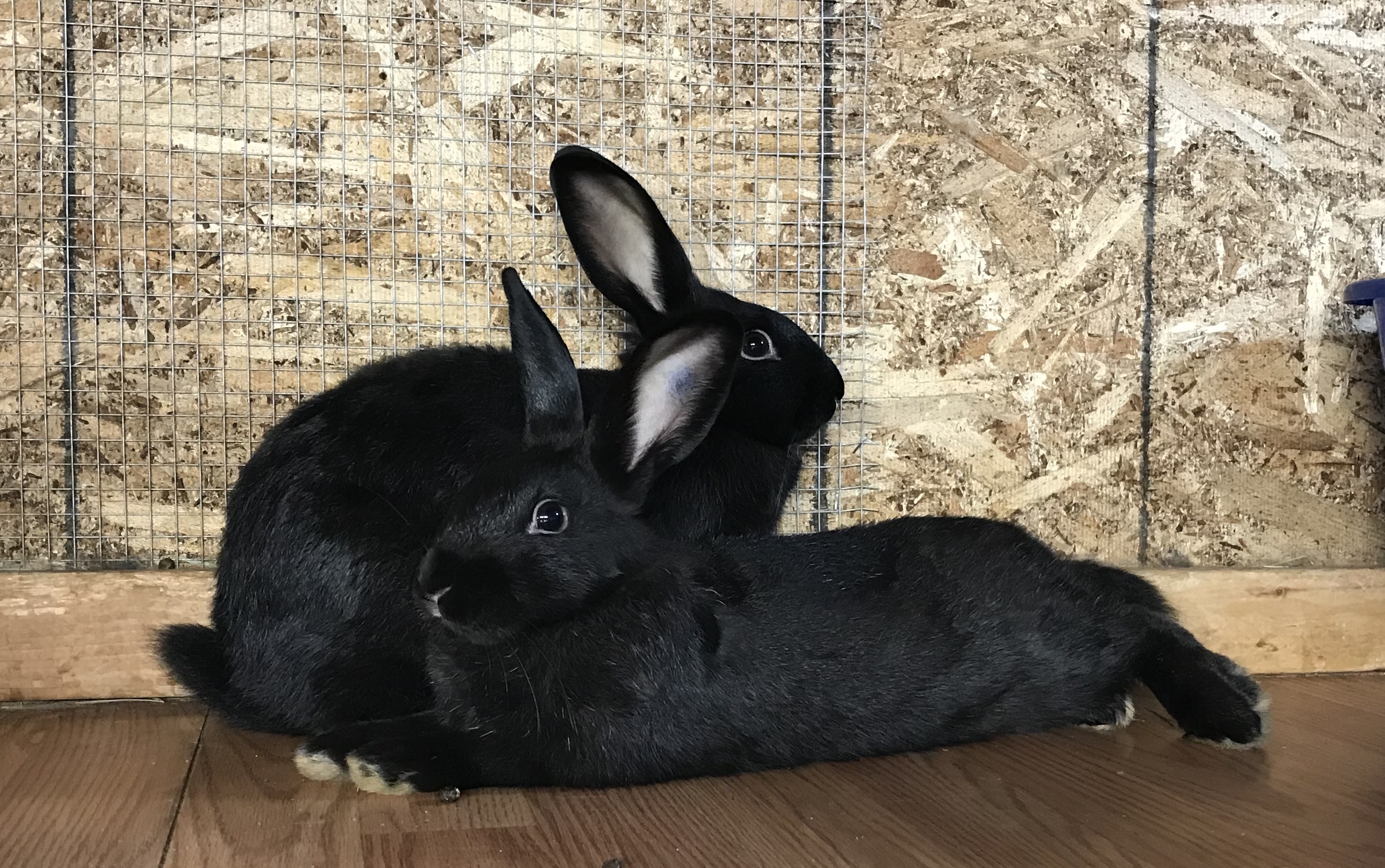 Spayed/ Neutered – Vaccinated – Microchipped
Special need care: Fawn will live a normal bunny life aside from potentially needing molar trims every 4 months (3 times a year). We are happy to pay for this expense and help with transportation if local in order to help this bunny get adopted! More information below. Luckily Finn's teeth look healthy!
Fawn (spayed female) and Finn (neutered male)
8 months old
Estimated Breed: Havana mix
Black
Small/medium size
Finn and Fawn are brother and sister pair. They are spending some time in foster care to work on socializing. Fawn is showing that's she's a bit more outgoing than her brother and Finn is more tentative. They are playful and food will be the way to win them over. They are great at using their litter box. They would do best in a home without small children. Did you know black bunnies are harder to adopt out? As well as bunnies with dental issues but these two deserve a loving home to call their own!
Bunnies with Malocclusion (dental root disease) is the most common special need in bunnies that we receive – it affects the ability for the bunny's teeth to align properly and grind down as normal bunny teeth do because bunny teeth never stop growing bunnies with dental issues teeth will grow so long that they cannot eat and/or it can cause wounds in their mouths if not properly trimmed. To improve and simplify the bunny's quality of life we have surgery performed by a specialist in Eugene area to remove the front teeth – this allows for the bunny to not have to go to the vet each month for teeth trimming. Bunnies without front teeth can still live a fairly normal bunny life. They eat hay and pellets regularly and just require veggies and treats in small pieces. These bunnies usually have issues with their molars aligning and grinding properly which require a trimming every 4 months (3 times a year). It costs us about $70 per molar trim (roughly $210 a year). If this extra expense is preventing a bunny from being adopting then we are happy to cover the cost of these molar trims to help the bunny be able to be adopted into their own loving home.